For many of us, December is a lonely time of year. Seniors can feel the pinch of loneliness more than most come the festive season. Indeed, according to figures from Age UK, nearly one million senior people feel lonelier this time of year.
As a compassionate Manchester nursing home, Flixton Manor takes special care of our residents throughout the Christmas and New Year period. Each year we make sure that we fill our residents' lives with glad tidings and fellowship.
The spirit of the season is found in companionship, preparation of the holiday and simple gestures. Having recently enjoyed one of our most festive seasons ever at Flixton Manor, with our Christmas Show, carol singers, and even a Brownie concert proving a hit with residents, we thought that we'd share how you can make the next holiday season enjoyable those special seniors in your life.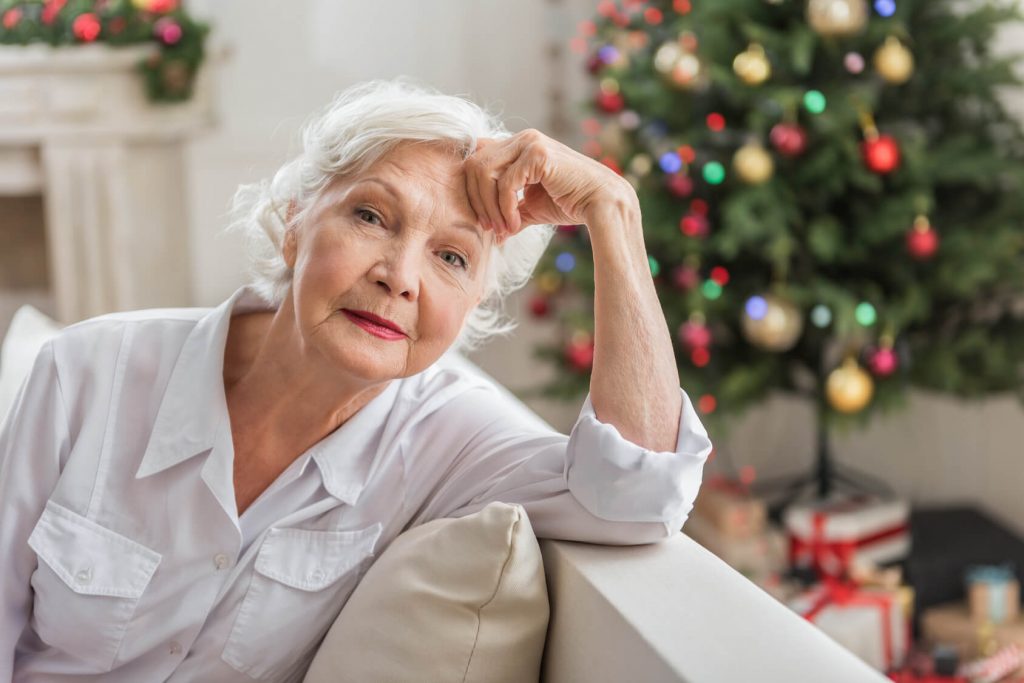 Christmas Cards
Writing Christmas cards can is challenging for those whose vision is failing or who find it difficult to hold a pen for extended periods. It's nice to offer to help write and send seniors Christmas cards.
Why not transform writing Christmas cards into an activity session? Especially beneficial to seniors who suffer with dementia, making Christmas cards help seniors to associate activities with pleasant memories, putting a smile on their faces and strengthening the bond you have together.
We at Flixton Manor felt Christmassy when we saw all the lovely Christmas cards our residents received! Our old people home in Manchester always encourages residents to display all their Christmas cards – sharing the joy of the holiday season.
Helping with the Christmas Shopping
Shopping for food or gifts at Christmas time is also difficult for someone with reduced mobility. Why not offer to head to the shops on their behalf, helping seniors appreciate the reciprocal joy of gift-giving during the holiday season.
Alternatively, if even you're not up for bracing the winter weather, why not spend some time together buying gifts online. If they're not overly internet-savvy, you can guide them through an online shopping experience, making sure that you pick up one or two bargains along the way!
Christmas Decorations
When most of us think of Christmas, we think of decking the halls with boughs of holly and trimming the tree. Seniors may find it difficult to decorate their home – especially if they have mobility issues. This is where you can spread some Christmas cheer by lending a hand and helping them decorate their home.
Putting up decorations together is a great way to share Christmas joy and really get into the spirit of the season – and it can make a huge difference, making seniors feel festive! Just don't forget to help them take the decorations down come January 6th!
The Christmas Dinner
What better way to reach out to someone you care about who you know may well be on their own come Christmas Day than by inviting them to Christmas dinner!
All you need to do is pull an extra chair to the table, peel a few extra spuds, carrots and, the occasionally dreaded, yet Christmas staple, Brussel sprouts, add an extra mince pie or two and share the meal with someone who'll surely appreciate the company!
These are just a few of the ways of how you can make the next holiday season enjoyable for seniors. Flixton Manor Manchester nursing home has over 25 years' experience caring for seniors. We know how to make their twilight years enjoyable, comfortable and full of warmth, fun and friendship.
Come and visit our blog throughout 2018 where we'll be posting plenty of insightful and interesting information about us. Our better still, come and visit us this year, and be the first to check out our brand new interior decor!
Flixton Manor is a Trafford nursing home synonymous with progressive care. We have more than 25 years' experience improving the quality of life for dementia patients. Learn more about us today by calling 0161 746 7175, where one of our friendly staff would be happy to help you.