When you have a loved one living in a residential care, it's important to stay connected with them. Oftentimes, your visits are the highlight of their week. A bright, cheery smile and familiar face will brighten their day and knowing when your next visit will give loved ones something to look forward to.
In saying that, some of us can find visits a mite awkward or uncomfortable. Sometimes we don't know what to say, other times loved ones' physical and emotional well-being can affect the impact of a visit.
But, let's not get downhearted. There are always fun and engaging activities to make each one of your visits fun and positive. Here's how to put a smile on the face of anyone living in residential care when you come for a visit.
Listen to Music Together
Music is wonderful. It has a universal ability to enhance mood, heighten engagement and reduce agitation, and, as such, is a wonderful activity to share with someone in elderly care.  
Why not play loved ones' favourite songs when you visit them. You can sit and listen to the music together, have an impromptu sing along or reminisce over memories for years gone by.
Listening to music is an ideal activity for someone who's bedbound. They may not have the physical strength to get up and dance, but that won't lessen the emotional impact they'll feel when melodies and lyrics of yesteryear fill their ears.
As one of the most caring nursing homes in Manchester, Flixton Manor recently invited a music therapist to visit our residential care home. Our residents greatly enjoyed the occasion greatly, singing along, laughing and remembering treasured memories.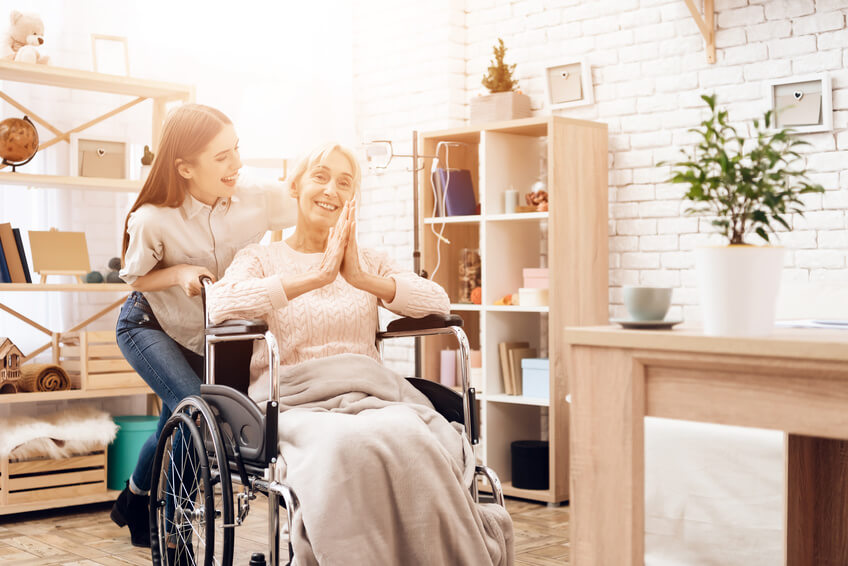 Share Pleasant Memories with Photographs and Videos
Just as music invokes pleasant memories of one's life, so too does looking at photographs. Life's story is one of moments. Photographs and videos preserve moments – which can be revisited each time our eyes set on it again.
Not only that but, photographs and videos are great conversation starters. Photographs will help anyone in elderly care to reconnect with how they felt in their past. This is great for residents with a failing memory – and you could even bring along different photographs and create a collage family tree to remind residents that even though you don't see them every day, you and your family are always with them.
Take a Walk Outside
When you come to visit, why not use the opportunity to take a walk outside in the fresh air. Many residents spend a good proportion of their week indoors, so getting outside is a real treat – especially in the warm summer months!
Flixton Manor is one of the care homes in Manchester that actively encourages residents to get out in the sunshine. Being amongst nature with the sun on your back can have a transformative effect. Sitting in the garden on a pleasant summer's day, sharing a picnic if only for an hour or two is an essential part of sound holistic elderly care – and can improve resident's engagement with the world, the bond you share and resident's general health and well-being.
If you're walking side by side with a loved one, always make sure to walk at their pace. Let them take a breather if they need to but, above all, let them enjoy the sights, sounds and smells of the world around them!